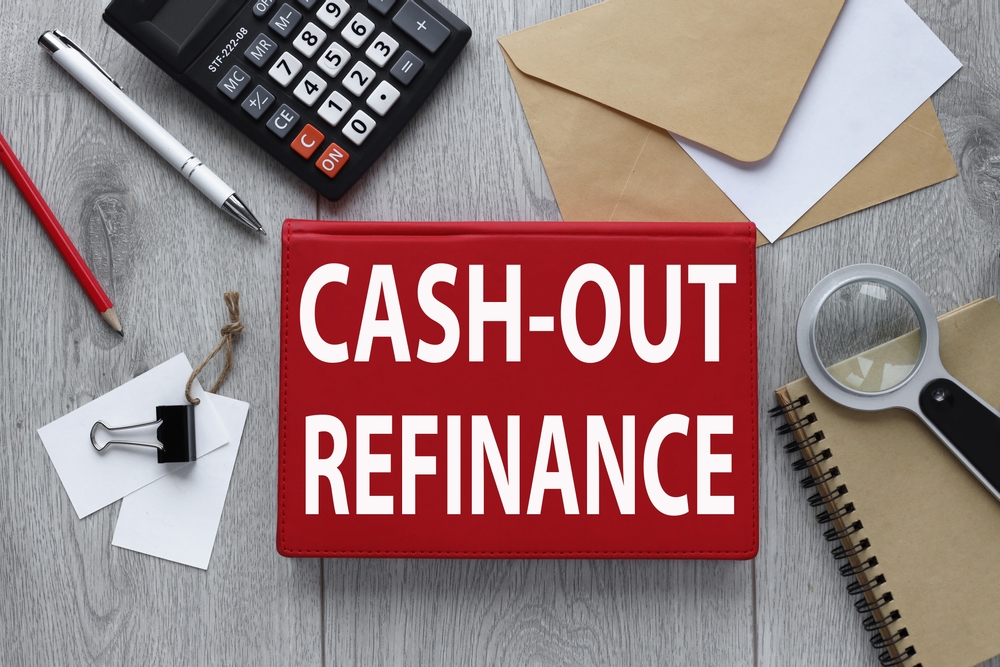 Cash-out refinancing is a popular option for homeowners who want to access their home's equity and use it to fund significant expenses or reduce debt. With cash-out refinance, you can borrow more than what you owe on your mortgage loan and receive the difference in cash. This type of loan has advantages and disadvantages, so it's important to weigh both before deciding if this is the right financial move for you.
What is a Cash-Out Refinance?
A
cash-out refinance
is a loan refinancing option whereby the new mortgage amount exceeds the total of the existing home loan and other debt payments, usually by taking out a larger loan. The difference between the old and new loan balance is distributed to the homeowner in cash and used for any purpose they desire.
Cash-Out Refinance: How Does it Work?
The cash-out refinance process begins with the homeowner applying for a new loan. To qualify, the borrower must generally demonstrate an adequate credit history, sufficient income, and a fair to good credit score. This is because lenders seek assurance that the borrower can manage the debt associated with their cash-out refinancing option. Once approved, the new loan amount will exceed their existing loan balance, and the difference is given to them in cash. This cash can be used for any purpose the borrower chooses, such as home improvement projects, debt consolidation, college tuition costs, and more.
How Long Does It Take To Get Cash Out of a Refinance?
The length of time it takes to receive cash from a cash-out refinance loan can depend on several factors, such as the complexity of the loan, the type of lender used, and any other requirements that need to be met. However, most cash-out refinances will take approximately four to six weeks from start to finish.
Pros of Cash-Out Refinance
Here are some of the main advantages of cash-out refinancing:
Increase Cash Flow
A cash-out refinance allows you to use the equity in your home as a source of income. You can access additional funds to improve your monthly cash flow and make bigger investments.
Lower Interest Rates and More Favorable Terms
A cash-out refinance can allow you to secure a lower interest rate and more favorable loan terms than what you may have received with the original mortgage. This could save you money in the long run if you take advantage of the lower rates and better terms.
Reduce Overall Debt Costs
By taking out a cash-out refinance, homeowners can take steps to reduce their overall debt costs. This can also help them decrease their monthly payments and have more cash available for other expenses.
Predictable Payments
Another advantage of a cash-out refinance is the more predictable payments. With a fixed-rate loan, homeowners know exactly what their monthly payments are and can plan their finances accordingly. Unlike other types of loans, most cash-out refinances don't have variable rates that could change over time.
Potential tax deductions
Depending on the terms of your cash-out refinance, you may be able to take advantage of potential tax deductions. This could help you save money when filing your taxes, making cash-out refinancing an even more attractive option for some homeowners. You can generally deduct your mortgage interest payments as long as they meet specific criteria.
Cons of Cash-Out Refinance
Though cash-out refinancing can be a beneficial tool for managing debt and building wealth, some drawbacks exist. Here are the key cons to keep in mind before using a cash-out refinance:
Increase in Debt
Generally, cash-out refinancing involves taking out a larger loan than your current mortgage and using the extra funds from the loan to pay off other debts. This will increase your overall debt levels and any monthly payments you must make to service that debt.
Loss of Equity
With cash-out refinancing, you're essentially taking out a loan with a higher principal amount than the one you're currently paying off. This means you are receiving cash in exchange for your equity, which is the difference between what you owe and the property's fair market value. If your home's market value drops unexpectedly during this process, you could end up owing more than the home is worth.
Closing Costs
Anytime you take out a loan, closing costs are associated with it. With cash-out refinancing, these costs can quickly add up and decrease any potential savings you can reap from refinancing your mortgage. Make sure you factor in all the associated fees before making a decision.
Potential Tax Implications
When you do cash-out refinancing, it is possible that, depending on your local tax laws and regulations, you may be subject to capital gain taxes or other such charges. Be sure to research and understand the potential tax implications before proceeding or ask a professional like Prudent Financial Solutions for assistance.
Is Cash-Out Refinance the Best Option for Me?
Cash-out refinancing
is becoming more and more popular as a way to access equity in your home. With cash-out refinance, you take out a new loan larger than your current mortgage's balance, and you receive some or all of the difference in cash. Many homeowners use this option to pay off high-interest debt, make home improvements, and free up cash for other investments. But like all financial decisions, this one has pros and cons that you should understand. With the pros and cons mentioned above, it's essential to weigh all factors before deciding whether cash-out refinancing is the best option for you. Be sure to speak with a financial advisor or mortgage specialist so that you can make an informed decision about your finances. Prudent Financial Solutions can help you explore your options and make the right choice for your future.
Consult with Prudent Financial Solutions
Cash-out refinancing has become a popular option for homeowners in recent years due to its potential to generate proceeds from home equity without selling the property. It is an attractive option for those looking to expand their business, pay off debt, or improve their homes. However, cash-out refinancing also carries risks and should be considered carefully before committing. You must speak with a qualified financial advisor if you're considering taking out a cash-out refinance loan. At
Prudent Financial Solutions
, we can provide personalized advice and help you assess the benefits and risks of cash-out refinancing. Contact us today to learn more.